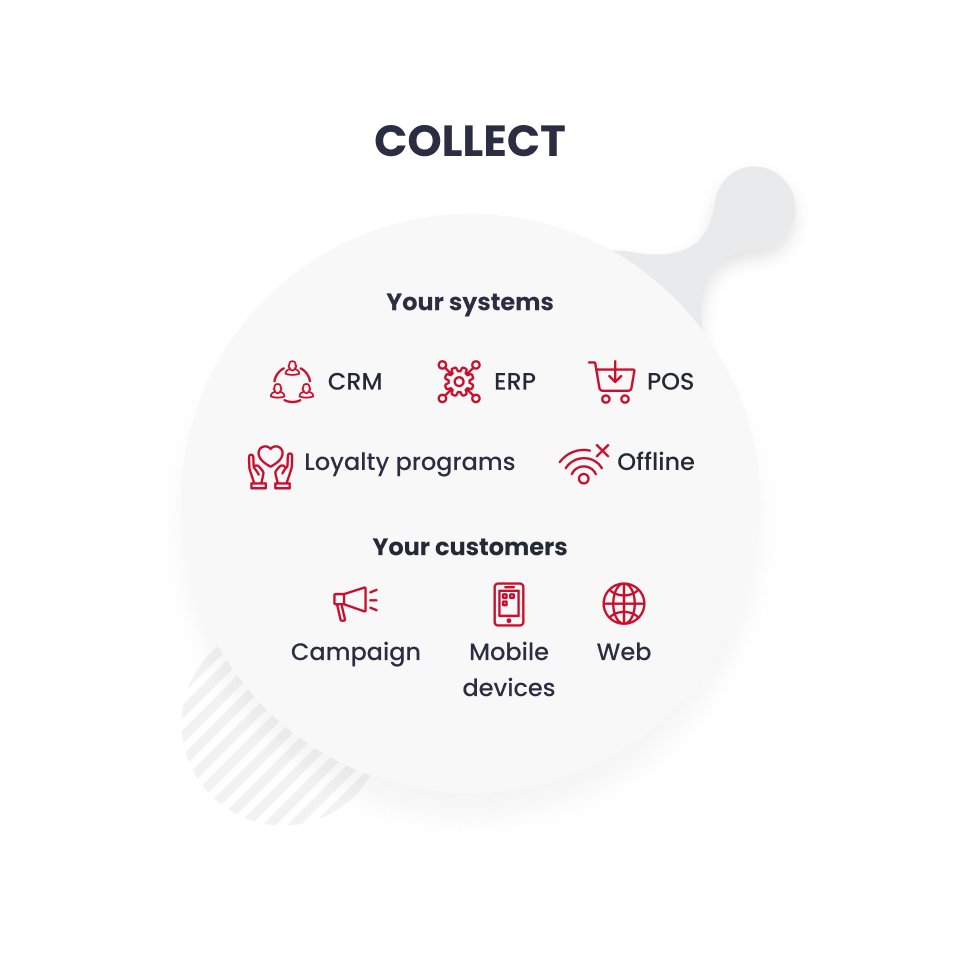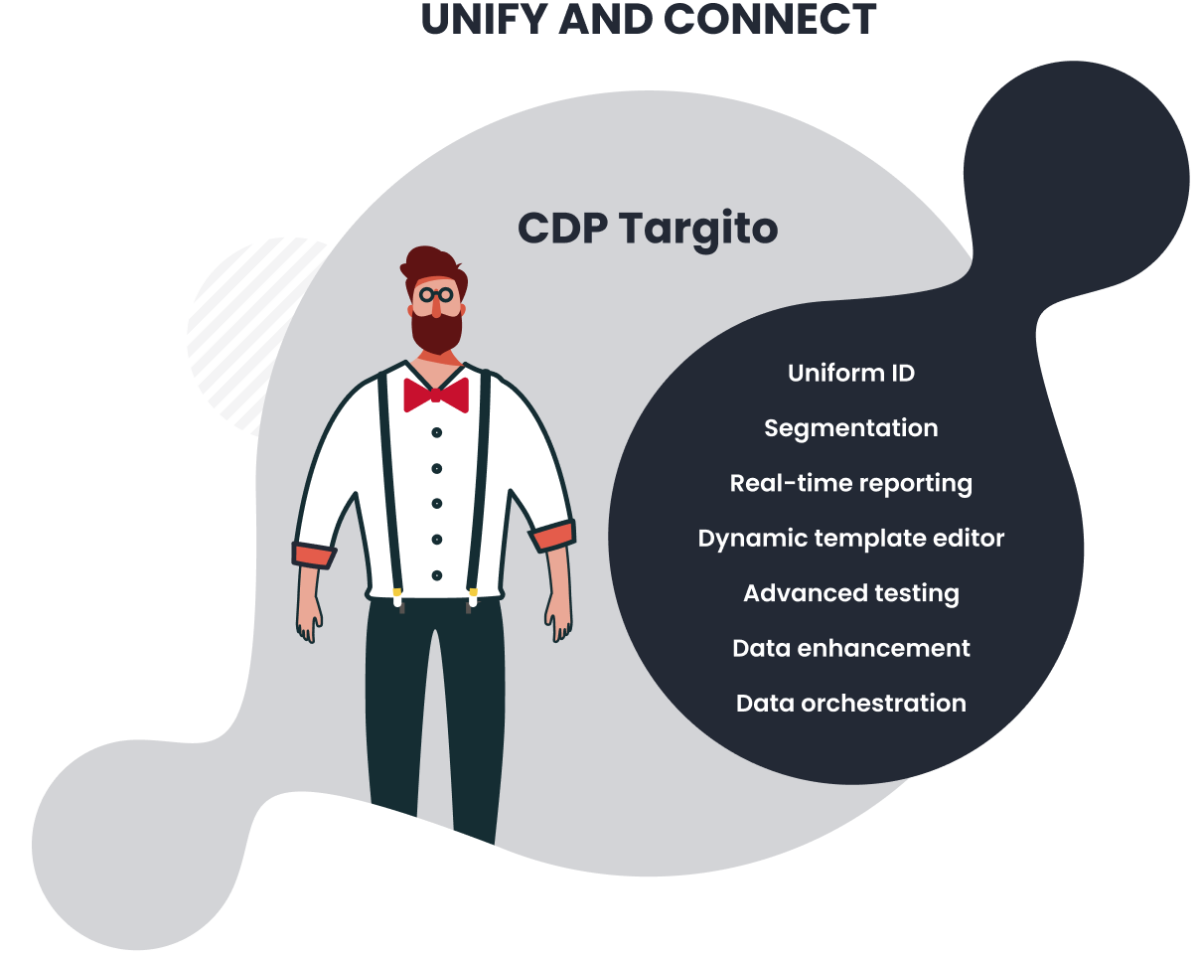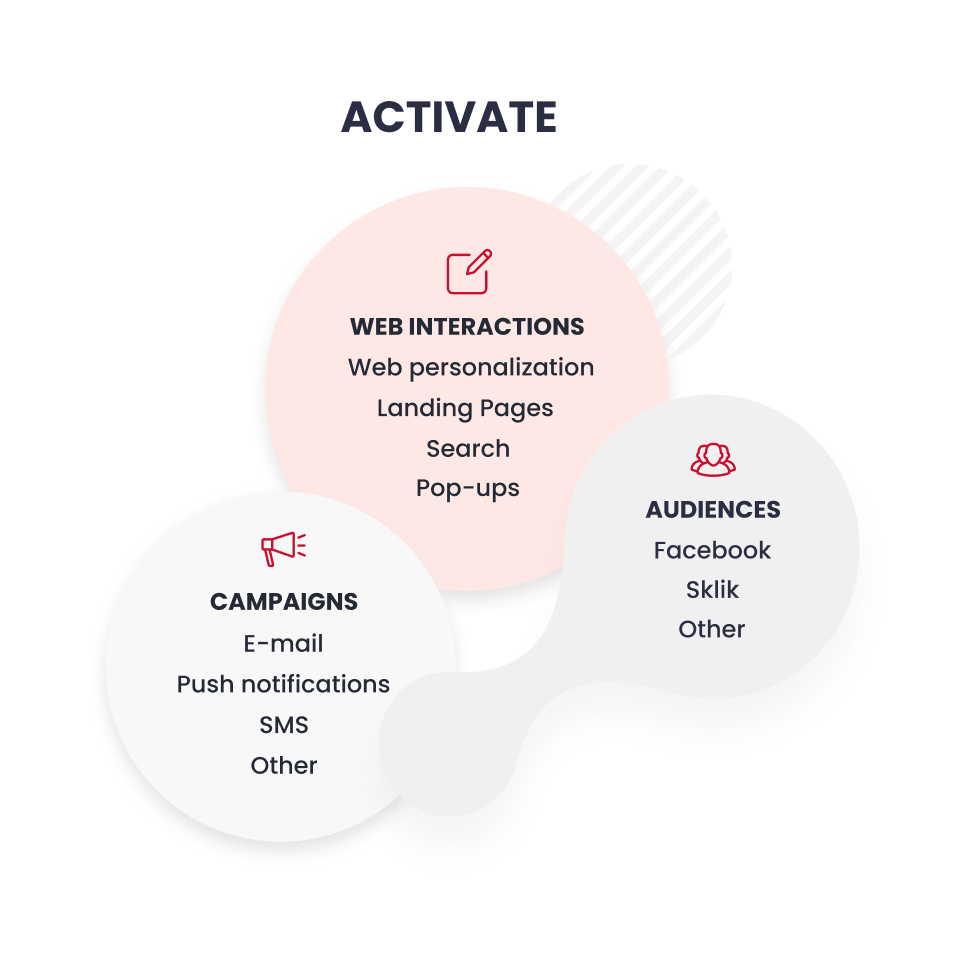 Gather data
A good salesperson knows the wishes and needs of his customers.
The Targito platform can integrate data about your customers from various online and offline sources. We can also connect directly to your e-shop. We have experience with dozens of different systems and are able to unify all the data in one place.
Unify and interconnect
A good salesperson is able to ask the right questions!
With the help of Big Data technology. Targito unifies customer information from all of your different sources, and helps to clear the system and database, of low-quality data and contacts.
The platform allows you to select segments and create lists which you can later use in your campaigns. You will have a fully updated real-time cloud database with complete history at your disposal.
Data can also be exported without any restrictions, to all of your other systems that you use to manage your marketing and business (e.g.: ERP, CRM, BI tools, RTB, social media and so on).
Data enrichment and segmentation
By combining data obtained from your e-shop and data calculated by our platform you will know exactly to whom, what, how, and when to show it. So that your offer is always interesting to the customer.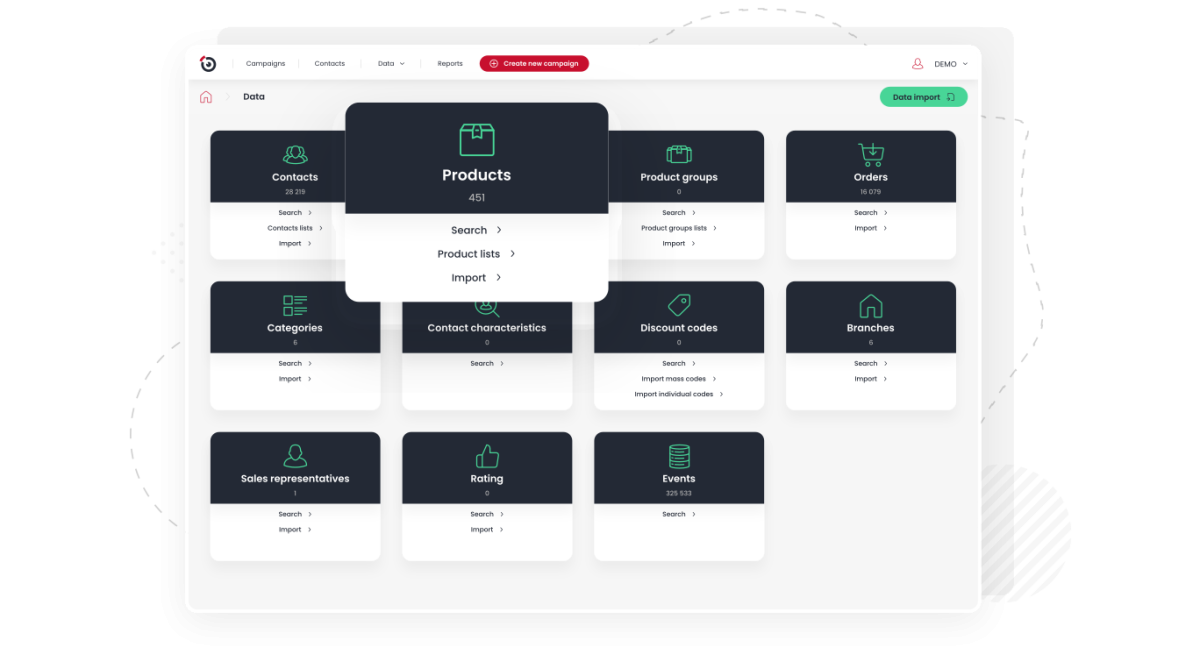 Favorite product, brand, category, or the right size.
Targito calculates data on each of your customers about their favorite brand, product or category.

The RFM segmentation module automatically divides customers according to their purchasing behaviour. Because of that you will be able to communicate with each of your customers depending on their needs and how often you are in contact with them.
Loyalty program of the Targito calculates and monitors customer loyalty points for you. So that you can inform your customers about the number of points remaining to become a VIP or when the points are going to expire. In addition our platform supports a system of different prices according to the types of customers you have.

Seasonality module, helps you to offer customers products that, according to statistics, they typically search for at the given time.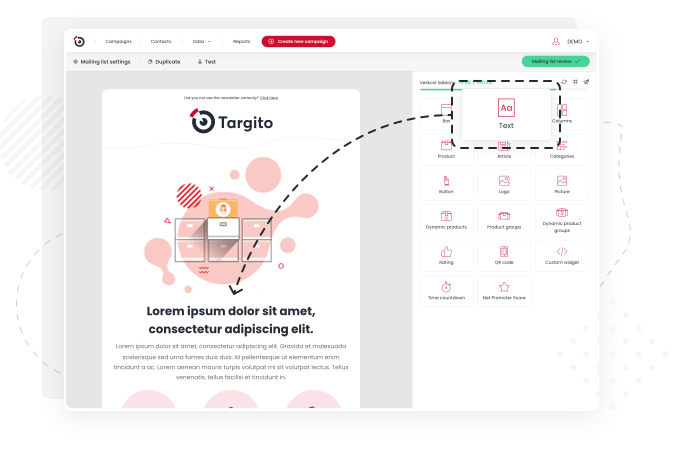 Dynamic template editor
Impress your customers with an originally looking and above all working newsletter. Intuitive drag & drop template editor allows you to easily combine data with just the right content, and form of communication. Furthermore the templates are responsive. Plus, you can make it without having to be an IT expert, graphics designer or lengthy lectures.
Advanced testing
Discover the most effective version of communication due to A/B (+C/D) testing. Which Targito offers. You can send newsletter variations to up to four different audience samples, and in doing so you can let the customers decide what they like best. In addition, Targito also tests automation.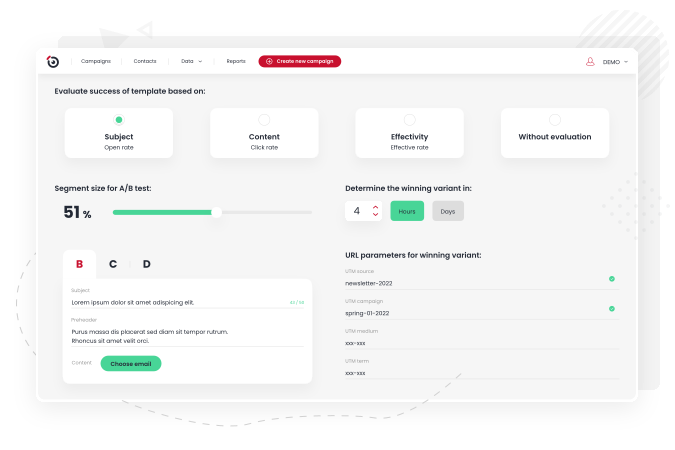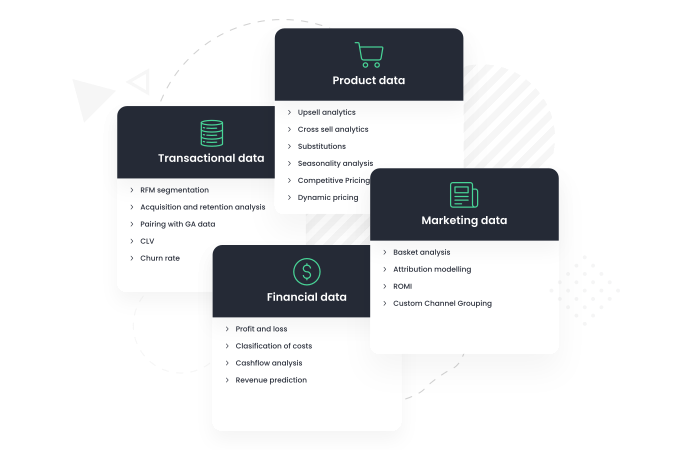 Advanced reporting
What do customers like, what do they click on and what content do they open? You can easily find all the information thanks to detailed reporting. Immediately after sending a newsletter you will have access to the data in Targito, where you can monitor the success of your campaigns in real time. Targito also supports direct connection to your corporate BI, whether you use Tableau, Power BI, Google Data Studio or others.
Data activation
A good salesperson doesn't wait for his customer to contact him.
The Targito platform is the ideal tool for your automated and personalised communication, with customers across many channels and various audiences. For email campaigns, we guarantee that your emails will reach your customers exactly when you need it to. Targito has a delivery rate of up to 99,9 %. The SPAM score can be checked beforehand so that you can eliminate any errors in time.
Multichannel communication
Find your customers at the right place, at the right time and with the right messaging. For the right communication you can use multiple channels.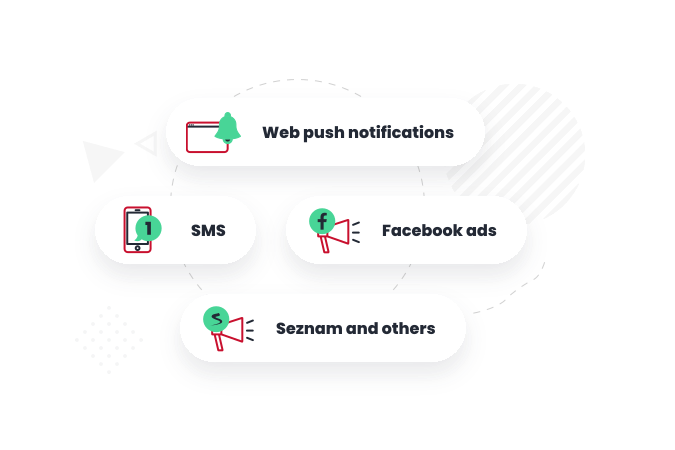 Marketing campaigns
Show to your customers that you care, and that you want to show them the best possible offer. It goes without saying: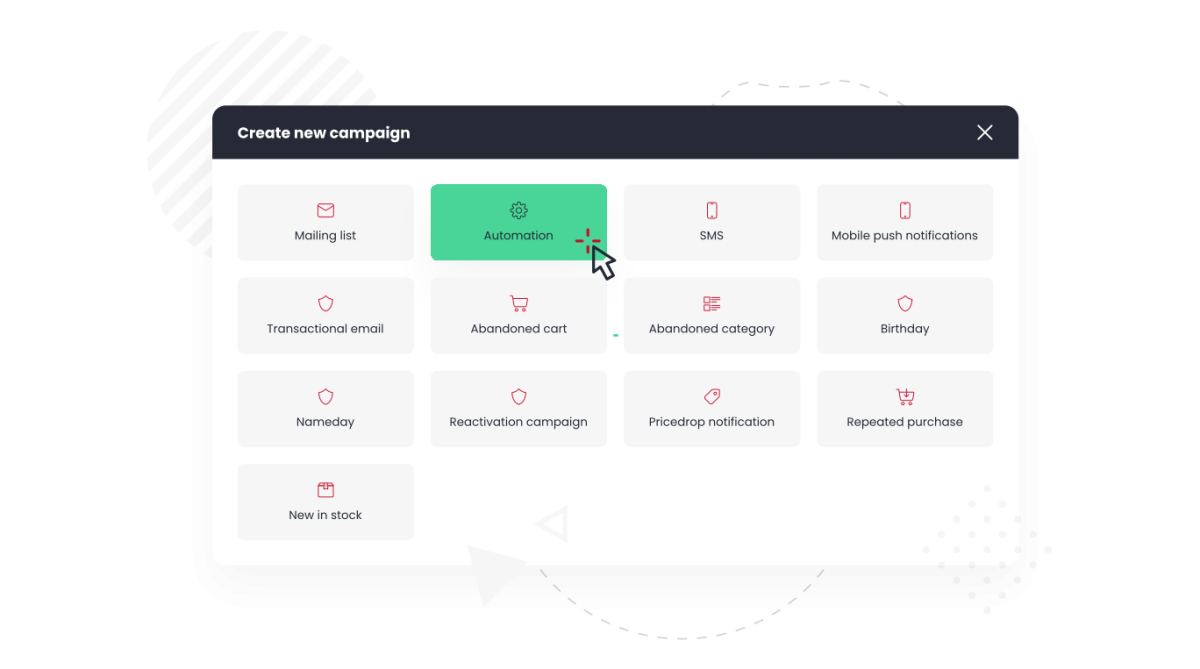 Automated newsletter
The only thing you have to come up with is the structure of your newsletter, and Targito will automatically add content according to the preferences and needs of your customers.

Multi-step welcome campaign
Prepare a complete welcome campaign that will be automated. Start collecting contacts, thanks to pop-up windows and continue to welcome new customers. Then in a few more steps encourage your contacts to make the first purchase.

Last viewed product or category
Remind and support your customer by recommending other products in a given category. Send automated product offers in intervals that you specify.
Track price and stock changes for popular products
This scenario allows you to define the amount of the discount that will trigger the campaign. It even monitors whether the customer has already purchased the product.

Multi-level abandoned cart
Gain insight about in what stage of purchase the customers have left the cart, and based on that build further communication with them. Send customers notifications in intervals to increase the chance of completing the purchase.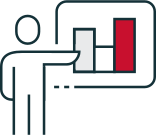 70%
Reach as much as 70% open rate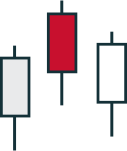 700%
Our campaigns reach ROI as high as 700%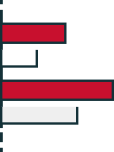 30%
Email marketing to revenue ratio of our long term clients is around 30%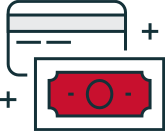 80%
Our clients cut the time spend on creating campaigns by more than 80%
Web personalization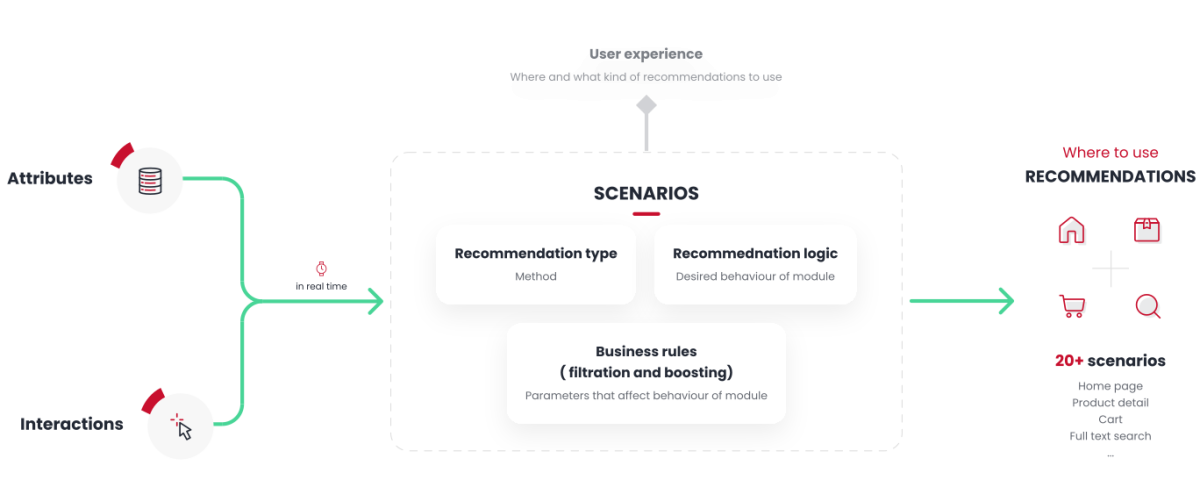 Based on the data obtained from the traffic on the website, with Targito you can automatically adjust the content of your website so that every customer sees what interests them. Content referrals happen in real time.
This creates a unique content for each visitor of your website which is of course made with regard to your brand's needs.
The portfolio of resolutions is really wide, for example:
media – media – delivery of news, IP TV, video clips and music

e-commerce – product recommendations, extensions for communication solutions (emailing, sms and so on)

offer of job opportunities – personalised portrayal, preparation of newsletters with individualised offers
travel and real estate offers – personalised recommendations for conferences, events, places, hotels, restaurants, tickets, etc.

education and seminars – personalised offer of seminars and recommendation of education materials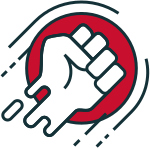 up to 40%
better conversion rate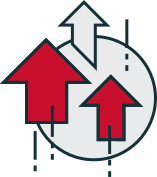 up to 2000%
ROI

15-25%
Average purchase increase

15–20%
Time saved on the content creation
Does your business have special needs?